Next-Generation ACCUPLACER*
Online Course and Practice Tests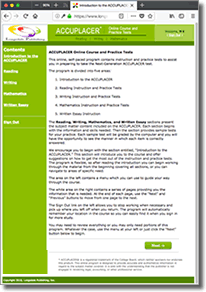 Reading

Writing

Arithmetic

Quantitative Reasoning, Algebra, and Statistics (QAS)

Advanced Algebra and Functions (AAF)
Our online course is the most complete system for addressing the specific needs and demands of the Next-Generation ACCUPLACER. Our proven system helps students become familiar with all aspects of the college placement test. Save time and money by scoring well on the ACCUPLACER and skipping developmental courses in English, math and reading.
ACCUPLACER Course Advantages:
Every tested competency in Reading, Writing and Mathematics found on the Next-Gen ACCUPLACER for only $39.95

20 practice tests Reading, Writing and Mathematics all modeled on the test objectives and study guides presented on the Official ACCUPLACER Site

A results page for each practice test shows an overall score, sub-scores, items missed, and offers an opportunity to revisit any item to see how it can be correctly completed

Students are continuously informed of weaknesses/strengths. Areas of weakness are accompanied by specific comments and suggestions for improvement

Meets 2019 Next-Generation ACCUPLACER Test Specifications
School representatives can request an unrestricted preview of both student and instructor sections of our program for evaluation purposes.
---
ACCUPLACER Tiered Pricing:
Individual Student Purchase - $39.95

Institution Site-License - $750
Allows unlimited number of students at your
campus to access the material for one year

5 Student Uses - $200 ($40 each)

10 Student Uses - $300 ($30 each)

20 Student Uses - $400 ($20 each)

30 Student Uses - $450 ($15 each)

50 Student Uses - $600 ($12 each)

Student uses are available for one year from the purchase date. For example, if you purchase 20 Student Uses for $400, 20 students can register to use the program from the date you make the purchase. Once registered, a student will have one complete year to use the program regardless of the registration date.
---
Testimonials:
"Our data indicate that students who used the Longsdale program to prepare for the ACCUPLACER placed into college level math at a 5% higher rate than students who did not prepare for the ACCUPLACER. Students who used the Longsdale program to prepare for the ACCUPLACER placed into college level English at a 9% higher rate than students who did not prepare for the ACCUPLACER."

Louanna O. Castleman, Ed.D.
Director of Admissions
Fayetteville Technical Community College
---
"As a student who was recently introduced to Longsdale Publishing, I was able to digest and review the reading, writing and mathematics skills needed for the ACCUPLACER test. When I first enrolled, I was having trouble with my grammar; I couldn't identify nor could I manipulate a sentence to determine which sentence was grammatically correct (Sentence Skills section). I couldn't remember basic math, and my writing skills didn't reflect my true potential. That changed when I came here. By reviewing the materials, taking the practice tests and writing essays, I was able to acquire the necessary skills needed to score higher! Because of your services, I passed the ACCUPLACER with flying colors and am now I'm enrolled in college. Thank you so much Longsdale Publishing! :)"

Kurtis B., Spring Valley, NY

---
"I completed my ACCUPLACER testing for Math, English and Reading last night. With the help and preparation of the Longsdale Publishing website, I found out today that I successfully passed all 3 of my tests! The website and practice tests were the greatest tool in my favorable outcome! Thank you Longsdale Publishing!"

Ashley Young

---
"A big thank you to the developers of the ACCUPLACER Online Course and Practice Tests! Thanks to all the practice I got before hand. I was able to show up for my test feeling confident and well prepared. I am certain that the ACCUPLACER Online Course and Practice Tests helped improve my test scores and gave me a head start into my academic journey. Thank you!"

Olivia Feliciano

---
"I think that if students were more aware of the importance of [the ACCUPLACER] they would really prepare for it. Parents spend so much money on prepping for the SAT but they never say, 'go prep for the ACCUPLACER.'" source

Dr. Steven Minkler
Dean of Student Academic Affairs
Middlesex Community College
---
"Unquestionably, the assessment and placement process involves very high stakes for students. Whether students are placed immediately in college-credit or transfer-level courses in English and mathematics or are instead required to start with basic skills courses has a major impact on students' trajectories. Course placement affects not only how quickly they can earn a certificate or degree—a factor affecting the cost of their program of study—but also their likelihood of completing a credential at all."

Source: Venezia, A., Bracco, K. R., & Nodine, T. (2010). One-shot deal? Students' perceptions of assessment and course placement in California's community colleges. San Francisco: WestEd.
---
Money Back Guarantee

If for any reason you are not completely satisfied with our program, just notify us within 30 days of your purchase, and we will issue a full refund.
---
* ACCUPLACER® is a registered trademark of The College Board, which neither sponsors nor endorses this product. This online program is designed to provide accurate and authoritative information in regard to the subject matter covered. It is sold with the understanding that the publisher is not engaged in rendering legal, accounting, or other professional service.