WEST-B Online Course and Practice Tests
Reading, Writing, and Mathematics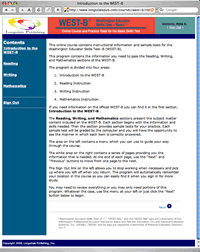 Our online course is the most complete system for addressing the specific needs and demands of the Washington Educator Skills Test–Basic (WEST-B). The course is designed around the content objectives of the Reading, Writing, and Mathematics sections.

The Student Demo provides a thorough overview of the course and practice tests. The course can be completed in 3 to 15 hours depending on your level of need. The instructional sections and sample tests directly relate to the information provided by the Official WEST-B Web Site.

WEST-B Course Advantages:
Over 1,500 web pages of instruction address every tested competency in Mathematics, Reading, and Writing found on the WEST-B.

Perfect your test taking skills with four practice tests each for Reading, Writing, and Mathematics. That's 12 practice tests all modeled on the test objectives and study guides presented on the Official WEST-B Web Site, www.west-b.nesinc.com

Write a sample essay, send it for evaluation, and receive a reply with helpful feedback

A results page for each practice test shows scores, items missed, and offers an opportunity to revisit any item to see how it can be correctly completed

Students are continuously informed of weaknesses/strengths. Areas of weakness are accompanied by specific comments and suggestions for improvement

Course can be completed in as few as 3 hours and as many as 15 hours depending on your instructional needs (3 hours if brief review is needed, 15 hours if more rigorous study is required)

Meets 2018 WEST-B Test Specifications
School representatives interested in a site license can call or send an email requesting an unrestricted preview of both the student and instructor sections of this program for evaluation purposes.
Testimonials:
"If you are looking for resources to help with studying for the WEST B tests, look no further. After deciding to pursue my teaching certificate, this task was daunting to say the least. I have been out of school for 20+ years and have not taken any of the modern standardized tests that are so prevalent in our educational system. These tests did not even exist when I was in school. That being said, I was very concerned that I could succeed in passing these tests to get to my goal of graduate school and eventually teaching.

The Longsdale study program is thorough. Not only does it offer practice tests, but a pretest breakdown of all the sub topics and skills that these tests are focused on. It was this pretest review with mini question portions that were invaluable in my studying.

Then, after taking the practice tests, it gives you the correct answer (for questions not answered correctly) AND explains why this is correct. My following practice tests scores went up exponentially due to this "teaching" perspective.

For the writing portion, again, I haven't written an essay in many years. This portion is it's own separate section and it goes into great detail about writing a concise and correctly formatted Essay. After submitting my first essay, the response time from Longsdale was almost immediate (this was during the Christmas holiday no less) and the reply was very personal and encouraging.

I had purchased another test help booklet from another source and was sadly disappointed. It's content and thoroughness was nothing compared to this program. It had practice tests and that is about it.

Although I have only taken (and passed) one portion of this 3 part test, so far, I am confident that my practice tests scores are an accurate reflection of how I will score on my actual remaining tests.

Longsdale Publishing's fee for this resource is money well spent on my future as an educator!"

Shelly G., Renton, WA

---

"After years of being out of college and the workforce to be a stay-at-home mom, I was worried about taking the West-B. I checked out some West-B prep books from the library, and while they were helpful in some ways, some of the explanations were unclear and the sample tests themselves were outdated. Longsdale Publishing's West-B Online Course provided study material, four sample tests per section, clear explanations for the test questions, and a free analysis of my writing sample for preparation of the writing portion of the West-B. I also found that the material presented was much more aligned with the actual content of the test than the West-B prep books I had tried. I felt well prepared on test day, thanks to Longsdale Publishing's West-B Online Course, and my scores proved it!"


M. K., Sammamish, WA

---

"Longsdale Publishing is a great site to prepare yourself for the West-B Exam."


Reshard R., Seattle, WA

---

"I just wanted to say "Thanks" for a great training program. I was concerned about taking the West B since I have not been in school for 20 years! Originally, I used a training book put out by another company. It gave plenty of practice questions, and answers, but NO explanations! Your program was great. It gave plenty of practice and if I missed one on a test I could immediately see how to do the problem correctly. I was only able to use your course for a bit over a week before I took the West-B course. Not only did I get lots of practice, but the problems were VERY similar to what was on the test. I ended up getting an almost perfect score on the West-B. The course was well worth the price!"


Dana S., Snohomish, WA

---

"The West B online course offered by Longsdale Publishing is a must for anyone wanting to take the West B exam. The course breaks down each subtest into manageable sections that are easier to digest. In addition, there are four practice tests for the reading, mathematics, and writing sections. The practice tests are graded giving you an idea of how you will do on each subtest. Also, you can go back and review the questions you missed and be given an explanation on what the correct answer is. You can also submit practice essays that will be reviewed, assessed, and given feedback by an actual person. It has been over 13 years since I had been to school and without the West B online course I would never have passed the first try. It is one of the best investments I ever made!"


Robert S., Spokane, WA

---

"It is my pleasure to recommend the WEST B online course program. I passed both the reading and math tests the first time after using this course. (I haven't taken the writing test yet) I found this course was the most relevant to the actual tests."


"I was always an "A" student in all subjects, with the exception of a "D" in algebra. No matter how hard I studied in High School or how many tutoring sessions I took, I never "got" algebra. But I taught myself over again using your course, and I received a 283 out of 300 on the math test. Thank you for helping me pass the first time. It has given me the confidence to continue algebra studies and move forward toward my teacher's certification. I really thought I would never be able to do it. Thank you."


Julie B., Seattle, WA

---

"In using this program to study for the West-B, I scored high on all three portions, math, reading, and writing, my very first time around! I recommended this program to all of my friends and peers and I recommend you use this great and effective tool as well."


Katie D., Ellensburg, WA

---

"I have a newborn baby and it is hard to find time for anything. The Reading practice tests were very helpful for me. I passed the Reading subtest! Thank you very much for the detailed analysis of my essay. It was very helpful because English is my second language, and I was confused by reading some examples of essays."


Oksana S., Olympia, WA

---

"I am a retired physician returning to school to get my K-8 teaching certificate. I haven't been in school in years and needed a review for the WEST-B. The WEST-B online course prepared me well, and I passed easily. It covered every section of the test thoroughly. The four practice tests were a good representation of the actual test. I recommend the WEST-B online course."


John D., Kirkland, WA

---

"Longsdale's WEST-B online prep is an effective way to get a feel for the actual WEST-B test content and format. I tested my knowledge and pacing using their online tests."


Mike T., Seattle, WA

---

"I definitely recommend the Longsdale course. The practice tests were an immense help. I particularly found the math portion valuable. It has been many years since I have done algebra or geometry equations. I'm pleased with my results."


Jan M., Greenacres, WA

---

"The West-B online course is a great buy. It successfully guided me through the reading, writing, and math sections. I passed the West-B test and I actually was amazed that the online course had much of the same information as the actual test. The concepts and theories I received while studying the Practice Tests to prepare for the West-B were worth every penny. The price was very inexpensive for what I received."

"Thank you for developing this wonderful course! I would not have passed if I did not purchase your online course."

Diane S., Lake Tapps, WA

---

"I am really pleased with the online WEST-B program and practice tests. The information was very helpful and very indepth. The test questions were very telling of what I needed to focus more time on. Thank you for setting up such a useful study guide."


Nerida R., Chattaroy, WA

---

"I passed all three WEST-B sub-tests on my first attempt and I found the Longsdale online course to be a great help in preparing. The practice tests were particularly useful as they gave full explanations of the answers. I would recommend the program to anyone prepping for the WEST-B test."

"Kind regards,"

Jennifer S., Bellevue, WA

---

"The West-B Online Course and Practice Tests helped me pass my West-B with great scores! It's been 20 years since I've been in college and I'm returning now working towards my masters in teaching. I was very nervous about having to take the West-B before starting any college courses. Practicing for the test online helped me to be well prepared and ready for the exams. I knew what to expect and felt much more confident after spending time with the online course!"

"Thank you Longsdale Publishing!!"

Janis A., Vancouver, WA

---

"This course helped prepare me for the West-B. I found the online content to be helpful, easy to use and accurate. The material presented was accurate to what I found on the West-B test; as a result I passed all three sections of the West-B on my first attempt. Thank you for your help!"

Joanna M., Enumclaw, WA

---

"I am very thankful that I found this website to help me study for the WEST-B test. I know that if I hadn't been able to study on this site and go over the information that was on the test beforehand I would not do anywhere as well as I did on the test. I thoroughly recommend that anyone who is preparing to take the WEST-B test use this study guide."

Jacob B., Yakima, WA

---

"I recently took the West-B exam and passed all three segments the first time, due in large part to becoming familiar with the format of the test, and discovering my weaknesses, by using this product. I highly recommend the West-B Course and Practice Tests, and only wish that similar tools for the various West-E exams were available!"

Michael B., Bothell, WA
---
Money Back Guarantee

If for any reason you are not completely satisfied with our program, just notify us within 30 days of your purchase, and we will issue a full refund.