Ready for a Test Drive?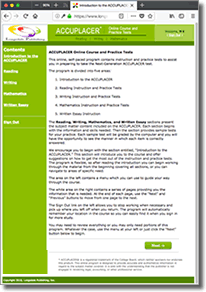 Staff and faculty from K12 and postsecondary institutions may request an unrestricted preview of both the student and instructor sections of our Next-Generation ACCUPLACER* Online Course and Practice Tests program for evaluation purposes.
Your preview is complimentary, carries no obligation, and can be used by you and up to five colleagues or students at your institution. The free preview period may last two to four weeks depending on your needs. Our intention is to provide you with everything you need to make an informed decision about our program.