VCLA Online Course and Practice Tests
Virginia Communication and Literacy Assessment (VCLA)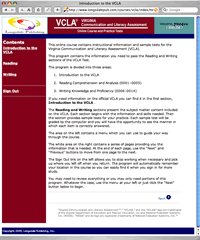 Our online course is the most complete system for addressing the specific needs and demands of the Reading (091) and Writing (092) subtests of the VCLA (Virginia Communication and Literacy Assessment).

The Student Demo provides a thorough overview of the course and practice tests. The course is designed around the content objectives of the VCLA and can be completed in 3 to 15 hours depending on your level of need. The instructional sections and sample tests directly relate to the information provided by the Official VCLA Website.

VCLA Course Advantages:
Over 1,250 web pages of instruction address every tested competency in Reading (091) and Writing (092) found on the VCLA

Perfect your test taking skills with four practice tests each for Reading and Writing modeled on the practice tests from the Official VCLA Website, www.va.nesinc.com

Write a sample essay, send it for evaluation, and receive a reply with helpful feedback

A results page for each practice test shows scores, items missed, and offers an opportunity to revisit any item to see how it can be correctly completed

Students are continuously informed of weaknesses/strengths. Areas of weakness are accompanied by specific comments and suggestions for improvement

Course can be completed in as few as 3 hours and as many as 15 hours depending on your instructional needs (3 hours if brief review is needed, 15 hours if more rigorous study is required)

Meets 2019 VCLA test specifications
School representatives interested in a site license can call or send an email requesting an unrestricted preview of both the student and instructor sections of this program for evaluation purposes.
---
VCLA Tiered Pricing:
Individual Student Purchase - $39.95

Institution Site-License - $750
Allows unlimited number of students at your
campus to access the material for one year

5 Student Uses - $200 ($40 each)

10 Student Uses - $300 ($30 each)

20 Student Uses - $400 ($20 each)

30 Student Uses - $450 ($15 each)

50 Student Uses - $600 ($12 each)

Student uses are available for one year from the purchase date. For example, if you purchase 20 Student Uses for $400, 20 students can register to use the program from the date you make the purchase. Once registered, a student will have one complete year to use the program regardless of the registration date.
---
Testimonials:
"I passed the VCLA with the help from the Longsdale course. I scored a 260 reading and 264 writing for a combined score of 524. A score of 470 is passing. The test was challenging for me but I felt prepared as a result of working through the Longsdale VCLA online course."

Tony S., Mount Jackson, VA

---

"This past weekend, I was able to attend a one-day VCLA training at Norfolk State University (NSU uses Longsdale's program). The program helped me tremendously with understanding the test and how to pass it. During the program, I learned to read the passages quickly and thoroughly as well as how to navigate through the answer choices to choose the best one. In addition, I learned basic ideas, such as the author's purpose and synonyms and antonyms, that I once could not remember. Knowing those basic ideas helped me to answer the multiple choice portion more effectively. I learned to write in a style that will score a 3 or 4. I learned the importance of answering the prompt effectively. Lastly, I am thankful to have an opportunity to take a similar test as if I was taking the actual VCLA. This allowed me to see the areas that I needed to improve in. The VCLA program at Norfolk State University gave me confidence that I have what it takes to pass the VCLA and become the best teacher possible."

Meagan W., Danville, VA

---

"I got a fantastic score, higher than I expected! What a relief it is to pass the VCLA. With the outstanding help from Longsdale Publishing and the VLCA prep course, I was able to successful navigate, understand, and pass the VCLA test. Thank you for creating and providing such a thorough and extremely helpful guide and test preparation. The explanation of the reading and written part, the exposure to the test structure and the real-life essay feedback was vital to my passing grade. I recommend this test prep service. Thank you."

Kiersten D., Lexington, VA

---

"I utilized Longsddale Publishing as one of my resources to prepare for the VCLA. The first time that I took the test, I missed the writing section by 6 points. I took the writing section again but did not pass. I took the entire test again and increased my reading score from a 216 to a 268. Although I did utilize other resources to prepare for the VCLA, I will say that the program from Longsdale Publishing helped me to feel best prepared for the design of the test. My first composite score was a 445. My passing score was a 493. Thank you Longsdale Publishing for designing a strong test preparation program."

Karen O., Hampton, VA

---

"This program was very helpful preparing for the VCLA. I feel more prepared now than I did before completing the practice tests. I would definitely recommend this to others!"

Mariah S., Virginia Beach, VA

---

"I passed both parts the first time around. The test prep was invaluable. I took all four writing practice exams. The raw scores I received were writing: 91%, reading: 80%."

"Thanks, Longsdale"

Cynthia R., Norfolk, VA

---

"I used Longsdale Publishing's program as a study guide in passing the Virginia Communication and Literacy Assessment (VCLA) test. I was a little skeptical at first, but I tried the program and I can say that it was a huge help. I was especially worried about the writing portion of the VCLA, but I worked on a sample write up, emailed it to the folks at Longsdale Publishing, and received feedback within 3 days, as promised. The best part is that there were no surprises on the test and I was well prepared, thanks to Longsdale Publishing. I passed the writing portion of the VCLA, and I am now working on studying for the reading portion using the same program. I would highly recommend this program."

"Thank You Longsdale Publishing!!!!!!!!"

Dee L., Clinton, MD

---

"I'm a Bachelors of Music Education major at George Mason University with a concentration in Instrumental Education with starting an Accelerated Masters in Special Education. As part of my program for both, I had to take the VCLA. I cannot emphasize how much I really valued your testing prep services to my success of the exam. I would get only 60% or so on your practice tests and would feel highly discouraged. When I got to the actual test, I felt like I was prepared, based on the fact how I prepared using your services. People said not to use a test prep service, especially that costs $40, but for me, as someone who has slight dyslexia that was not diagnosed till I was 16 and reading comprehension is not my forte, it was very beneficial and I credit in part your website for my 543/600 score."

"It is very useful and very recommended."

Julia-Anne S., Annandale, VA

---

"Thank you for your feedback. I took the writing part this afternoon and feel that I did well. I already took the first part (Reading-091) and scored a 391! The online class was a great help and I will definitely pass on the word to other teachers."

Joy C., Collinsville, VA

---

"If you have to take the VCLA, I highly reccomend Longsdale Publishing online prep course. I reviewed all the other test preparation materials and Longsdale was by far the most thorough and effective for preparing to take the exam. By taking the course I was able to consistently get passing grades on the practice tests. I am taking the actual exam on Friday and thanks to Longsdale I am feeling very confident!"

Colette L., Ashburn, VA

---

"The VCLA Online Course and Practice Tests are simple to navigate, extraordinary for test preparation and provide a solid emotional boost to any test anxiety brought about by the mere thought of taking a licensure test like the VCLA. Onward to a fruitful, prosperous career in teaching."

Bonn Garrett, 12 year magazine editor, Commonwealth of Virginia Career Switcher, Virginia Beach, VA

---

"I enrolled on website about 7 days before taking my VCLA for the first time. I passed!!!!! The first time. THANKS !!! It was worth the $40. Wish you had study programs online for the Reading for Virginia Educators (5306) also referred to as the Praxis II. I have the book offered by ets.org, but I think your course was in depth and gave me practice on the computer."

Celine B., Suffolk, VA

---

"I used your services and it was a life saver. Thank you so much. I felt prepared going into the test. I passed and did very well. I would use your services for any other test. You stayed very true to the actual format of the test. I loved the fact that I could use it right away once I paid for it."

Minouche P., Yorktown, VA

---

"As a non-native English speaker, I have always been concerned that I would not be able to pass the VCLA test in order to pursue my goal as a teacher in this country. I definitely found this program helped me improve my English grammar, comprehension, and writing skills. After I submitted my sample essay, I received a personal reply with detailed comments. I was surprised to see how your company was so seriously about helping me improve my writing skills. Using your constructive comments, I rewrote my essay using your suggestions. Your replies will benefit me in my writing for the rest of my life. I am sincerely grateful. I got a final score of 550 for both tests. Not to bad for a recent Chinese immigrant. I am now on my way to a teaching career. I think this program is so worthwhile. It gave me confidence and brought the best results."

"Thank you!"

Vivian S., Falls Church, VA
---
Money Back Guarantee

If for any reason you are not completely satisfied with our program, just notify us within 30 days of your purchase, and we will issue a full refund.