Praxis* Core Online Course and Practice Tests
Praxis Core Academic Skills for Educators:
Reading (5712), Writing (5722), and Mathematics (5732)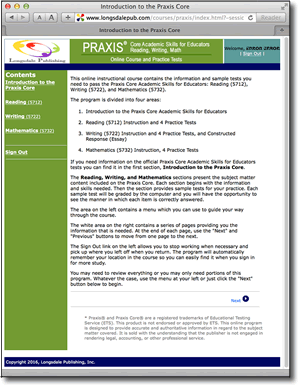 Our online course is the most complete system for addressing the specific needs and demands of the Reading, Writing, and Mathematics sections of the Praxis Core.

The Student Demo provides a thorough overview of the instruction and practice tests. The program is flexible, so you can begin working through the material from the beginning covering all sections, or you can navigate to areas of specific need. The instructional sections and sample tests directly relate to the information provided by Educational Testing Service.

Praxis Core Course Advantages:
Perfect your test taking skills with four practice tests each for Reading, Writing, and Mathematics. That's 12 practice tests all modeled on the test objectives from the Official Praxis Core Website

Every practice test item is correlated to a Reading, Writing, and Mathematics sub-area objective so students can identify areas of specific need

Each practice test shows scores, items missed, and offers an opportunity to revisit any item to see how it can be correctly completed

Comprehensive instruction in Reading, Writing, and Mathematics in addition to practice tests

Students are continuously informed of weaknesses/strengths. Areas of weakness are accompanied by specific comments and suggestions for improvement

Write a sample Argumentative and/or Informative/Explanatory essay, send them for evaluation, and receive a reply with helpful feedback

Meets 2019 Praxis Core Test Specifications
School representatives can request an unrestricted preview of both student and instructor sections of our program for evaluation purposes.
---
PRAXIS Tiered Pricing:
Individual Student Purchase - $39.95

Institution Site-License - $950
Allows unlimited number of students at your
campus to access the material for one year

10 Student Uses - $400 ($40 each)

20 Student Uses - $500 ($25 each)

30 Student Uses - $600 (20 each)

50 Student Uses - $700 ($14 each)

Student uses are available for one year from the purchase date. For example, if you purchase 20 Student Uses for $500, 20 students can register to use the program from the date you make the purchase. Once registered, a student will have one complete year to use the program regardless of the registration date.
---
Testimonials:
"We have been using the Longsdale practice Praxis Core online tests as part of our preparation for the mandated entrance assessment, the Test of Basic Skills. To be able to become accepted into the Teacher Education Program, students must pass all modules of the Praxis Core. Therefore, our Teacher Education program has used the Longsdale product for several semesters, and we find it to be an invaluable tool in helping students prepare for the actual Praxis Core. We especially like the individual self-correction aspect; it is targeted, student-specific, and succinct in helping the student gain understanding. The independent learning approach is extremely student-friendly. I have taught test prep courses in the past, but it is hard to individualize in even a small class. However, the practice tests do exactly that: they target the learning needs while reinforcing the already mastered material. "

Anne Thomas
Teacher Education Program Coordinator
Wilkes University, Wilkes-Barre, PA

---

"Longsdale Publishing is a reliable and beneficial resource in helping future educators study for the Praxis Core. I have found that using this resource has helped increase my test scores. Thank you Longsdale Publishing for allowing students like myself to use your resource."

Karleigh A., student
Anderson University, Anderson, SC

---

"I feel that this prep course helped to prepare me for the Praxis. I really had no idea what to expect before taking the practice tests, but the tests were very similar to the actual Praxis. The tests helped me to identify what areas I should work on before taking the Praxis. I really don't think my scores would have been as good without this course."

Denise W., student
Arkansas Tech University, Russellville, AR

---

"I have definitely found your program to be helpful. By utilizing the program and the resources, it has given me a broader idea as to what to expect on the test, and I feel better prepared. I also appreciate the ability to have feedback right away on my writing. By having professionals critique my practice writing, I can learn my strengths and weaknesses, and use the information to better prepare myself for the test. Thank you again."

Leondra M., Omaha, NE

---

"Writing timed essays is a great way to improve your writing. I used the strategies of brainstorming and outline creation to form a flowing coherent essay. Being timed causes me anxiety, so practicing writing an essay and knowing that someone will be reading it helped immensely. The feedback given was prompt, specific and helpful causing me to develop my weaknesses so that I passed the Praxis."

Wendy P., Nebraska

---

"I took the practice tests about a year earlier than what my four year college was requiring. Thanks to the studying, I passed my pre-service tests no problem and now stand out in my peer crowd because of it!"

Alec D., student
Wilkes University, Wilkes-Barre, PA

---

"I found the Praxis Online Course & Practice Tests to be very beneficial. It allows you to get an inside scoop on what to expect on the test. Without this, I don't believe I would have scored as well as I did."

Jennifer M., student
Bloomsburg University of Pennsylvania

---

"I really like this site! I haven't retested but I am a lot more confident. Using the practice material and tests have helped me to focus on what I need to study to be prepared and speed up my responses."

Jackie M.,
Northwestern State University of Louisiana

---

"For my many students who are particularly busy with their academic coursework, outside work, and family life, the online tests to help prepare these students have been very worthwhile."

JoAnne P., Instructor
Penn State Berks

---

"I have dyslexia and was extremely nervous about taking the praxis test. The practice tests from Longsdale Publishing gave me the confidence to not only succeed but to excel when actually taking the real test. I passed all three tests with high scores on the first try. Thank you Longsdale for your wonderful product."

April B.,
University of Arkansas at Little Rock

---

"It was very helpful in giving me the advantage of what to expect on the actual test. I did not have anxiety when I took the real test because I was familiar with the style of the questions. I would recommend using this product."

Nicole G., student
Wilkes University, Wilkes-Barre, PA

---

"The Praxis preparation program is very helpful. It has more content to study than the program offered by ETS. I love the different test forms provided and the content is relevant to the praxis."

Jose M., student
Midland University, Fremont, NE

---

"Using this course really helped me understand the material. I liked how after each question it gave you the correct answer and an explanation. Without this course I definitely wouldn't have done as well as I did."

Hannah S., student
Peru State College, Peru, NE

---

"I am a senior and I must admit being intimidated by the prospect of taking the Praxis for educators. This practice has helped me to prepare for confronting the unknown and helped me to gain the confidence to complete my goal of becoming a teacher. Thanks for the help!"

Ken D., student
Millersville University, Millersville, PA
---
Money Back Guarantee

If for any reason you are not completely satisfied with our program, just notify us within 30 days of your purchase, and we will issue a full refund.
---
* Praxis® and Praxis Core® are a registered trademarks of Educational Testing Service (ETS). This product is not endorsed or approved by ETS. This online program is designed to provide accurate and authoritative information in regard to the subject matter covered. It is sold with the understanding that the publisher is not engaged in rendering legal, accounting, or other professional service.