CBEST Online Course and Practice Tests
Reading, Mathematics, and Writing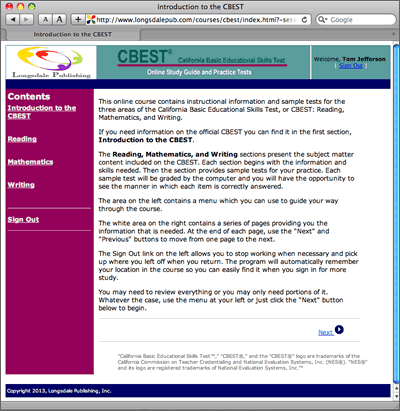 Our online course is the most complete system for addressing the specific needs and demands of the Reading, Mathematics, and Writing sections of the CBEST (California Basic Educational Skills Test) exam.

The Student Demo provides a thorough overview of the course and practice tests. The course is designed around the content objectives of the CBEST and can be completed in 3 to 15 hours depending on your level of need. The instructional sections and sample tests directly relate to the information provided by the California Commission on Teacher Credentialing.

CBEST Course Advantages:
Over 1,250 web pages of instruction address every tested competency in Mathematics, Reading, and Essay found on the CBEST

Perfect your test taking skills with four practice tests each for Reading and Mathematics modeled on the practice test from the Official CBEST Website, www.cbest.nesinc.com

Write a sample essay, send it for evaluation, and receive a reply with helpful feedback

A results page for each practice test shows scores, items missed, and offers an opportunity to revisit any item to see how it can be correctly completed

Students are continuously informed of weaknesses/strengths. Areas of weakness are accompanied by specific comments and suggestions for improvement

Course can be completed in as few as 4 hours and as many as 15 hours depending on your instructional needs (4 hours if brief review is needed, 15 hours if more rigorous study is required)

Meets the 2019 CBEST Test Specifications
School representatives interested in a site license can call or send an email requesting an unrestricted preview of both the student and instructor sections of this program for evaluation purposes. The cost of the Annual Site License has been reduced from $795 to $350.
True Testimonials:
We would just like to thank each and every one of you who have personally thanked us for our hard work on this website. We decided to place the testimonials right where you can find them not only as a thank you to those who have put in their hard work, but also for those of you who have yet to take CBEST Exam and may need some inspiration and/or confirmation that since you are here visiting Longsdale Publishing, you've come to the right place. The following are all real:
"As an English major transitioning into the role of educator, one of the most daunting aspects of my credentialing experiance was the CBEST math section. Thankfully, my undergraduate university recommended and provided access to the Longsdale Publishing online CBEST study guide. To my great relief, the study guide provided a thorough enough review of math problems and procedures that I hadn't seen since senior year high school. I was able to put together the necessary information to study, and the numerous practice test prepared me more than I imagined. Thanks to Longsdale Publishing, I received a score of 60 on the CBEST math section, a score I couldn't have imagined a few months ago on my weakest subject."

Cristobal A., California State University, Channel Islands

---

"Longsdale Publishing has provided excellent insight into the CBEST test. The program is split into the three sections: reading, math, and writing. There are helpful study guides as well as practice tests in which the answers are explained. You can even send in your writing to get it assessed by someone! I am confident Longsdale Publishing has helped me succeed in my CBEST studying."

Amber D., East Palo Alto, CA

---

"I'm very happy with the CBEST Essay Question Review process. It was very easy to make use of and very valuable. I was able to submit two samples on consecutive days and receive prompt feedback within 48 hours. The review was very encouraging, thorough and professional. It's really nice to have an objective person available to provide critical feedback in a constructive manner. A friend or family member may not be so objective. I strongly encourage anyone to take advantage of this great service."

Alfonso M., Manteca, CA

---

"I used your website for the practice tests and for tips. I enjoyed using this service through the pre-credential program for CSU Channel Islands. I appreciate this help and all the study materials. This program is great overall. I appreciate it. Thank you so much for reading my essay."

Rochelle R., CSU Channel Islands student

---

"Longsdale's customer service was superior. I received speedy, thoughtful, and courteous replies to all my inquiries. Very helpful, and many thanks!"

Allison S., Corona del Mar, CA

---

"I am taking the test next week and found the Longsdale program to be terrific."

Maureen P., Irvine, CA

---

"Yesterday, I took the CBEST test for the first time and just to let you know, your site definitely captures the spirit of the actual test. I did not run across your site until the week before, but you helped me greatly I feel."

Christina C., Valencia, CA

---

"This is a great website! I passed the CBEST by taking this course. Many of the math problems are similar to the test. The bottom line is....If you can do the problems on this study guide then you will pass the Cbest!!"

Suzanna B., Clovis, CA

---

"Longsdale Publications is a good site for practice and tutorial information. The site was a integral piece in the CBEST test taking process."

Jay F., Fontana, CA
---
Money Back Guarantee

If for any reason you are not completely satisfied with our program, just notify us within 30 days of your purchase, and we will issue a full refund.