ILTS Online Course and Practice Tests
Test of Academic Proficiency: Reading, Language Arts, and Mathematics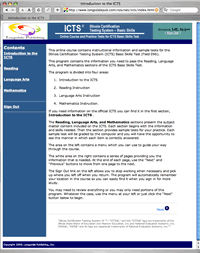 Our online course is the most complete system for addressing the specific needs and demands of the ILTS Illinois Licensure Testing System (ILTS) Test of Academic Proficiency (Field 400). The course is designed around the content objectives of the Reading, Language Arts, and Mathematics sections.

The Student Demo provides a thorough overview of the course and practice tests. The course can be completed in 3 to 15 hours depending on your level of need. The instructional sections and sample tests directly relate to the information provided by the Illinois State Board of Education.

ILTS Course Advantages:
Over 1,650 web pages of instruction address every tested competency in Reading, Language Arts, and Mathematics found on the Test of Academic Proficiency

Perfect your test taking skills with four practice tests each for Reading, Language Arts, and Mathematics. That's 12 practice tests all modeled on the test objectives from the Official ILTS Website, www.il.nesinc.com

Write a sample essay, send it for evaluation, and receive a reply with helpful feedback

A results page for each practice test shows scores, items missed, and offers an opportunity to revisit any item to see how it can be correctly completed

Students are continuously informed of weaknesses/strengths. Areas of weakness are accompanied by specific comments and suggestions for improvement

Course can be completed in as few as 4 hours and as many as 15 hours depending on your instructional needs (3 hours if brief review is needed, 15 hours if more rigorous study is required)

Meets 2018 ILTS Test Specifications

Free Customer and Technical Support by Phone and Email
School representatives can request an unrestricted preview of both student and instructor sections of our program for evaluation purposes.
---
ILTS Tiered Pricing:
Individual Student Purchase - $39.95

Institution Site-License - $750
Allows unlimited number of students at your
campus to access the material for one year

5 Student Uses - $200 ($40 each)

10 Student Uses - $300 ($30 each)

20 Student Uses - $400 ($20 each)

30 Student Uses - $450 ($15 each)

50 Student Uses - $600 ($12 each)

Student uses are available for one year from the purchase date. For example, if you purchase 20 Student Uses for $400, 20 students can register to use the program from the date you make the purchase. Once registered, a student will have one complete year to use the program regardless of the registration date.
---
Testimonials:
"I am very pleased with the online course as it has allowed me to gain additional skills for my upcoming test. I find that it has been an effective resource for me. "

Denise M., student, Chicago State University

---

"Longsdale Publishing's ILTS TAP preparation program was the most effective tool I used to prepare for my ILTS exam. The program gave me a clear understanding of what type of material would be on the exam as well as an explanation for all of my incorrect answers. A very thorough and comprehensive study guide."

Andrea B., student, National Louis University

---

"In making a career change from a municipal investment banker to a school business official, I had to take the IL TAP 400 test to complete my licensure. It had been nearly 25 years since I had to compute the volume of a cylinder and the Pythagorean theorem. I took the test in March utilizing only the state booklet and one online test. I only passed two parts and needed help with the Language Arts and Math sections. Longsdale Publishing's system really help me to gain confidence going into the second testing session. I went through all the tutorials and then took all 4 tests in each section. The more I practiced the better I got and on testing day I PASSED! I would highly recommend Longsdale's process to prepare for the IL TAP 400. I wish I had known about it the first time I tested."

Wendy F., Winfield, IL

---

"I have found that your program was very helpful in the writing portion of the Tap test. It allowed me to understand what Longsdale Publishing and the professionals behind grading the tests are looking for in the writing process of the test. I liked that the response was only one to two days after I submitted my paper. This allowed me to get my paper reviewed by a professor and by your program. In the response you gave me positive reinforcement and what I needed to work on to be a better writer and to create a better paper. Thank you for all the help and I feel like I am now better prepared for my ILTS Tap test."

Tiffany H., Jacksonville, IL

---

"After being out of school for 23 years, Longsdale's website has given me the tools I need to prepare for the TAP exam. I love the feedback given after the practice exams and the essay review component. So glad this site was recommended by the school."

Nichelle W., Chicago, IL

---

"Your program has made a distinct difference in our efforts."

J.D. Bowers
University Office of Teacher Certification
Northern Illinois University

---

"We have found the TAP practice materials to be very beneficial. Our candidates have improved their scores after using the Longsdale subarea practice tests; the more practice tests they took and time invested, the greater the margin of improvement. One of our candidates went from a 217 to a 300 after using the Longdale materials - it was a happy day for her!"

Nadeen Rust, Trinity International Universtiy, Deerfield, IL

---

"I have really benefited from your service. Thanks to all the practice tests I feel much more prepared. Your concept explanations are clear and to the point, and your examples and tips have been incredibly helpful! Some techniques even helped better than the ones I was taught in high school! It's also helped me remember a lot of math basics that will really help me when I study for the GRE!! Do you guys have a GRE prep service too?"

Julia W., Chicago Teaching Fellows/TNTP Academy, Chicago, IL

---

"The ICTS-Basic Skills online preparation materials and practice tests helped me a great deal when studying for the exam. One aspect of the program that I found very beneficial was the ability to type an essay and send it in to Longsdale publishing to be read and graded. The feedback was helpful and it made me that much more confident for the test."

Jaron E., Northern Illinois University, DeKalb, IL

---

"The ILTS-Basic Skills course helped to alleviate my anxiety about taking the TAP. After working through the online course, I knew exactly what material I would encounter on the day of the test. The program outlines each proficiency standard with detailed explanations and examples. After passing, I attribute my success to this course and would recommend Longsdale to a friend. If you thoroughly work through this course, you will pass!"

Jamie S., Chicago Teaching Fellows/TNTP Academy, Chicago, IL

---

"I was worried about taking the Basic Skills test. The biggest reason for this was that my first language is not English. However, with the help of the ICTS Online course, I was able to pass the test. What makes this program stand out from other programs is the feedback that is received for a writing sample and the twelve practice tests. I passed and so can you!"

Anne S., Plainfield, IL

---

"The rigorous standards required to pass the ICTS Basic Skills Test can be frightening. With success rates down, students often find themselves looking for sufficient material to prepare for the test. I was very fortunate to have found the Longsdale Publishing program. Longsdale gave me exactly what I needed to successfully pass the test. The reading material is thorough and useful in helping to prepare for the actual test and the practice tests are quite similar to those that one will encounter taking the real test. I could not recommend this program any higher. I can say that because of it I passed the test!"

Joshua H., Hillsboro, IL

---

"The ICTS-Basic Skills online course and practice tests helped me prepare for the Basic Skill Test. The course outlines each section in extensive detail. By practicing a few hours a day, I was able to drastically increase my scores on the practice tests."

Kirstin R., University of St. Francis, Joliet, IL

---

"The ICTS on-line course was awesome. I took the Basic Skills Test and the Principal Exam here in Illinois on the same day. Approximately 10 hours of testing, and I passed both with flying colors. I attribute my success on the basic skills test, to not only the great course, but your great customer service. I have recommended the course over and over to others who are trying to pass the basic skills course. Thank you so much for your help, and thank ICTS On-line Course for a great product."

Karl H., Chicago, IL
---
Money Back Guarantee

If for any reason you are not completely satisfied with our program, just notify us within 30 days of your purchase, and we will issue a full refund.