MTEL Online Course and Practice Tests
Communication and Literacy Skills (Reading and Writing)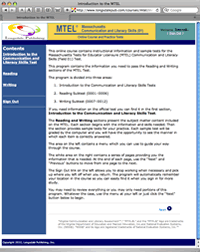 Our online course is the most complete system for addressing the specific needs and demands of the Communication and Literacy Skills subtests (Reading and Writing) of the MTEL (Massachusetts Tests for Educator Licensure).

The Student Demo provides a thorough overview of the course and practice tests. The course is designed around the content objectives of the MTEL Communication and Literacy Skills test and can be completed in 3 to 15 hours depending on your level of need. The instructional sections and sample tests directly relate to the information provided by the Official MTEL Website.

MTEL Course Advantages:
Over 1,250 web pages of instruction address every tested competency in Reading (091) and Writing (092) found on the MTEL

Perfect your test taking skills with four practice tests each for Reading and Writing modeled on the practice tests from the Official MTEL Website, www.mtel.nesinc.com

Write a sample essay, send it for evaluation, and receive a reply with helpful feedback

A results page for each practice test shows scores, items missed, and offers an opportunity to revisit any item to see how it can be correctly completed

Students are continuously informed of weaknesses/strengths. Areas of weakness are accompanied by specific comments and suggestions for improvement

Course can be completed in as few as 3 hours and as many as 15 hours depending on your instructional needs (3 hours if brief review is needed, 15 hours if more rigorous study is required)

Meets 2019 MTEL test specifications
School representatives interested in a site license can call or send an email requesting an unrestricted preview of both the student and instructor sections of this program for evaluation purposes.
---
MTEL Tiered Pricing:
Individual Student Purchase - $39.95

Institution Site-License - $750
Allows unlimited number of students at your
campus to access the material for one year

5 Student Uses - $200 ($40 each)

10 Student Uses - $300 ($30 each)

20 Student Uses - $400 ($20 each)

30 Student Uses - $450 ($15 each)

50 Student Uses - $600 ($12 each)

Student uses are available for one year from the purchase date. For example, if you purchase 20 Student Uses for $400, 20 students can register to use the program from the date you make the purchase. Once registered, a student will have one complete year to use the program regardless of the registration date.
---
Testimonials:
"I found the Longsdale Publishing site extremely helpful in preparing for the MTEL communication and literacy skills writing subtest. There were many choices out there, but only Longsdale had the online flexibility at a great price. Being able to access the information at my convenience and review it often was important to me. Also, a key selling feature Longsdale offers is the ability to send a sample writing piece (in my case, the long composition) and have it edited and sent back with comments! Mike offered wonderful, quick turnaround with excellent suggestions of what worked and what should be revised. Since I'm a bit punctuation challenged, he even took the time to give me websites to review when, where, and why to use different punctuation marks. I highly recommend Longsdale Publishing for any of your test preparation needs."

Pam D., Boston, MA
---
Money Back Guarantee

If for any reason you are not completely satisfied with our program, just notify us within 30 days of your purchase, and we will issue a full refund.