MTLE Online Course and Practice Tests
Minnesota NES Essential Academic Skills Test:
Reading (188), Writing (189), and Mathematics (190)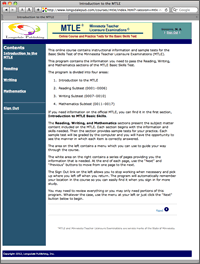 Our online course is the most complete system for addressing the specific needs and demands of the Reading, Writing, and Mathematics sections of the MTLE Minnesota NES Essential Academic Skills Test.

The Student Demo provides a thorough overview of the course and practice tests. The comprehensive instruction and sample tests relate directly to the information provided by the Official MTLE Website.

MTLE Course Advantages:
Over 1,950 web pages of instruction address every tested competency in Mathematics, Reading, and Writing found on the MTLE NES EAS

Perfect your test taking skills with four practice tests each for Reading, Writing, and Mathematics. That's 12 practice tests all modeled on the test objectives from the Official MTLE Website, www.mtle.nesinc.com

Write a sample essay, send it for evaluation, and receive a reply with helpful feedback

A results page for each practice test shows scores, items missed, and offers an opportunity to revisit any item to see how it can be correctly completed

Students are continuously informed of weaknesses/strengths. Areas of weakness are accompanied by specific comments and suggestions for improvement

Comprehensive instruction in Reading, Writing, and Mathematics in addition to practice tests

Meets 2019 MTLE Test Specifications
School representatives can request an unrestricted preview of both student and instructor sections of our program for evaluation purposes.
---
MTLE Tiered Pricing:
Individual Student Purchase - $39.95

Institution Site-License - $750
Allows unlimited number of students at your
campus to access the material for one year

5 Student Uses - $200 ($40 each)

10 Student Uses - $300 ($30 each)

20 Student Uses - $400 ($20 each)

30 Student Uses - $450 ($15 each)

50 Student Uses - $600 ($12 each)

Student uses are available for one year from the purchase date. For example, if you purchase 20 Student Uses for $400, 20 students can register to use the program from the date you make the purchase. Once registered, a student will have one complete year to use the program regardless of the registration date.
---
Testimonials:
"The Longsdale practice exam is an excellent tool to prepare for the MTLE. This exam provided questions in a variety of math areas, ranging from applied math to geometry. The questions range in difficulty and are easy to follow. After each test, I was able to view the wrong answers and see which was the correct answer, along with an explanation oh how to arrive at the correct answer. Not only were the tests helpful, it was free (through Saint Mary's University)."

Anthony F., Winona, MN
(student at Saint Mary's University of Minnesota)
---
"Longsdale practice tests are fantastic preparation for the NES Exams. They are very informative and will help you grasp new material easily. It is the absolute best! Thanks very much!"

Ryan F.
---
"I am working my way through the program, having completed the reading and writing sections and practice tests. I have started the math section and if it is as thorough as the reading and writing, I will be happy. I am finding the program extremely helpful; it is very thorough and clearly laid out. I'm not sure what I would do for preparatory work without it. There are 4 practice tests for each section and also a section for essay writing that you can send into Longsdale for evaluation. This is invaluable. Many years have passed since I was in school and I definitely need something as comprehensive as this program. It is well worth the money. Thank you!"

Deborah L., Grand Rapids, MN
---
"I used Longsdale Publishing to help me study for the MTLE Basic Skills exams. I am an adult learner with an undergraduate degree, and I'm going back to school to get my teaching license. I hadn't had math in almost 20 years, so I was very nervous about that portion of the test especially. I chose to break up my tests and take reading and math together and then take the writing portion a couple of weeks later.

"I liked the preparation materials from Longsdale because they fully prepared me for all of the tests, and I especially appreciated the practice tests. I found that the reading and writing portions of the MTLE were very similar to what Longsdale offered. The math portion was a bit different but still very beneficial. I thought that the preparatory materials taught me more than I actually needed for math, and yet I wouldn't change it because I was well prepared and that gave me a lot of confidence. I tried other preparation materials, but overall I preferred what Longsdale had to offer. I passed the reading and math on my first try and I am waiting to hear back on the writing portion. Thank you!"

Tami P., Buffalo, MN
---
Money Back Guarantee

If for any reason you are not completely satisfied with our program, just notify us within 30 days of your purchase, and we will issue a full refund.