MTTC Online Course and Practice Tests
Basic Skills Test: Reading, Writing, and Mathematics (096)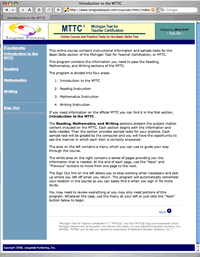 Our online course is the most complete system for addressing the specific needs and demands of the Reading, Mathematics, and Writing sections of the MTTC (Michigan Test for Teacher Certification) Basic Skills test.

The Student Demo provides a thorough overview of the course and practice tests. The course is designed around the content objectives of the MTTC and can be completed in 3 to 15 hours depending on your level of need. The instructional sections and sample tests directly relate to the information provided by the Official MTTC Website.

MTTC Course Advantages:
Over 1,250 web pages of instruction address every tested competency in Mathematics, Reading, and Essay found on the MTTC

License holders will be automatically upgraded to new instruction and practice tests for the Professional Readiness Examination on September 1, 2013 at no charge

Perfect your test taking skills with four practice tests each for Reading and Mathematics modeled on the practice test from the Official MTTC Website, www.mttc.nesinc.com

Write a sample essay, send it for evaluation, and receive a reply with helpful feedback

A results page for each practice test shows scores, items missed, and offers an opportunity to revisit any item to see how it can be correctly completed

Students are continuously informed of weaknesses/strengths. Areas of weakness are accompanied by specific comments and suggestions for improvement
School representatives interested in a site license can call or send an email requesting an unrestricted preview of both the student and instructor sections of this program for evaluation purposes.
Testimonials:
"This MTTC study guided helped me pass the writing section of the Basic Skill Test. I would recommend this to everyone!"

"Thank you!"

Jessica R., Novi, MI

---

"I feel very fortunate to have found the MTTC Online Course on the internet. The practice tests were an instrumental aspect of my study tools for the MTTC Basic Skills Test, which I am happy to report I passed on my first attempt."

"Thank you!"

Pamela M., Monroe, MI

---

"I am going back to school for my teaching certificate and had not been in a classroom for almost twenty years, needless to say I was feeling unprepared for the MTTC. I found the MTTC online tutorial and used it to prepare for the basic skills test. The program fully prepared me and I passed all sections without problems. I highly recommend this program."

Anne W., Frankenmuth, MI

---

"As a non-traditional student returning to college for my Masters in Education I found the MTTC Online Course and Practice Tests very helpful. I highly recommend taking all of the tutorials and practice tests to anyone interested in passing all segments of the MTTC Basic test in the first sitting. The course and practice tests refreshed my memory and increased my speed. Speed is important because the Basic MTTC is a timed test."

"Thank you!"

Christine C., Big Rapids, MI

---

"The MTTC Online Practice Program got me familar with the test format and gave me a better idea of what the actual exam is like."

Yixuan W., Student at Ferris State University

---

"Your online course and practice tests program really helped me prepare for the MTTC test. I thing I liked the most is the instruction for writing part."

Siming H., Big Rapids, MI

---

"This program was extremely beneficial in aiding me to pass the MTTC Basic Skills Test. Not only was I able to essentially re-learn the areas I was unfamiliar with, but I was also able to take multiple practice tests and track my progress. I have and will continue to recommend LongsdalePub.com to aspiring teachers."

Andrea S., Waterford, MI

---

"The practice tests aided me tremendously in studying and preparing for the basic skills exam. I'm so glad that your practice exams were available, because I passed every section the first time through."

Laurie, B., Student at Ferris State University
---
Money Back Guarantee

If for any reason you are not completely satisfied with our program, just notify us within 30 days of your purchase, and we will issue a full refund.